Download the Remote Support Tool to enable your support team member to connect to your system remotely.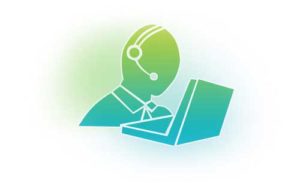 Download TeamViewer Remote Support
Create and manage tickets via our secure online Customer Portal.
Send an email to the Help Desk to create a ticket automatically and communicate with your team or any member.
Check to see if your e-mail has been compromised
There have been numerous reports of various websites getting hacked and exposing lots of logins/passwords. Here is a simple website that lets you know if your e-mail was exposed in any of the "password dumps" by hackers.
Test your Internet connection bandwidth to locations around the world with this interactive broadband speed test from Ookla.
FREE Computer Training and Tutorials
Sharpen your technology skills with free self paced online instruction on subjects like Microsoft Word 2016, Microsoft Excel 2016, Intro to E-mail, Computer Basics, Windows 10, Cloud Computer Services and much much more!
Please use the following form for non technical support requests only. For technical assistance please use the Create Support Ticket or Ticket By E-mail options.
Hours: 9am – 5pm Arizona, Monday – Friday (24/7 Emergency Support offered at Emergency Labor Rate)
Phone: 623-208-7567